Carrier Air Conditioner Installation in Lithia Springs
Carrier Factory Authorized Dealer Serving the Atlanta Metro Area
Although we install and service all makes and models of air conditioners, there's something different about a Carrier air conditioning system. Carrier delivers more than assembled pieces and parts, they deliver products that use the most innovative cooling technology available today. Because we are so confident in the quality and longevity of Carrier brand products, we've taken the necessary steps to become a Carrier Factory Authorized Dealer. This distinction means that our customers can trust our extensive training and expertise when it comes to installing and servicing these long-lasting, energy efficient systems.
Ronald Smith Heating & Air is your go-to company for Carrier air conditioner installation in Douglas County and the surrounding areas. Call today at (770) 766-9212 to request an estimate.
Carrier Infinity Series Air Conditioners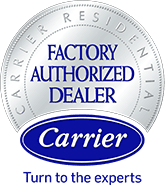 Carrier Infinity Series Air Conditioners represent the very latest in home cooling technology and the best in energy efficiency.
Benefits of an Infinity Series Air Conditioner:
Efficiency ratings of up to 21 SEER
Different sizes to fit any home
Increased dehumidification with two-stage compressors
Extremely quiet operation (as low as 65 decibels)
ENERGY STAR qualified
Integration with other Carrier Infinity Series products for enhanced comfort control and efficiency
Control your air conditioner from anywhere with an Infinity Series Control with Remote Access
Non-ozone depleting Puron® refrigerant
Carrier Performance Series Air Conditioners
For those looking to increase their air conditioner's energy efficiency at an affordable price, we highly recommend Carrier Performance Series Air Conditioners. With two-stage and single-stage models available, there is an option to fit any home and any budget.
Benefits of a Performance Series Air Conditioner:
Efficiency ratings of up to 18 SEER
Two-stage compressor available for increased energy efficiency and dehumidification
ENERGY STAR qualified models available
Quiet operation (quieter than most dishwashers)
Non-ozone depleting Puron® refrigerant
The Importance of Professional Air Conditioner Installation
Installing a new air conditioner is not as simple as picking it off the shelf, taking it out of the box, and plugging it in; it requires a degree of technical skill that only certified HVAC professionals possess. Before a purchase is even made, the correct AC size needs to be determined based on square footage to avoid problems with energy efficiency. If the system is too large or too small, you will have issues with poor performance, excessive wear and tear on your system, and higher energy bills. Once that step is done, the system then needs to be carefully and correctly installed to avoid problems with performance and ensure that your system's warranty isn't jeopardized by any preventable mistakes.
Avoid these consequences by hiring our certified Carrier air conditioner technicians:
High heating and cooling bills
Shortened equipment life
Frequent breakdowns
Uneven cooling and humidity control
Unsafe operation
General frustration and overall poor return on investment
For pricing information on any of our Carrier air conditioner products, call (770) 766-9212 to schedule a free estimate with us. Don't forget to ask us about our exclusive 100% satisfaction guarantee!
Ronald Smith Heating & Air's Blog
Want all the latest news or updates? Browse through our blog to read our most recent posts and featured articles.